What is included in your plans
Your package (PDF or prints) will contain detailed, high-quality working drawings. You can expect to find the following standard elements in most sets of plans:
Front Perspective - A sketch of how your finished house will look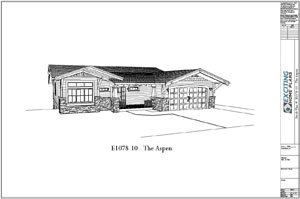 Foundation and Basement - A sheet showing the foundation layout including concrete walls, footings, pads, posts, beams, bearing walls, and foundation notes. If your home features a basement, the first-floor framing details may also be included on this plan. If your plan features slab construction rather than a basement, the plan shows footings and details for a monolithic slab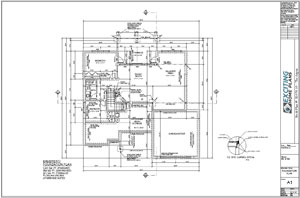 Detailed Floor Plans - This shows the layout of each floor of the house. Rooms and interior spaces are carefully dimensioned; doors and windows located, and keys are given for cross-section details provided elsewhere in the plans.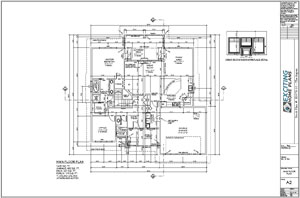 Roof Plans - This shows the locations & directions of all roof slopes including notes on their pitches & overhangs.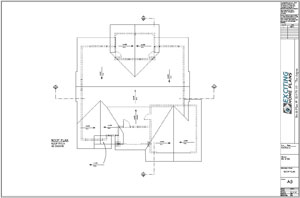 House And Detail Cross-Sections - Large-scale views show sections or cutaways of the foundation, interior walls, exterior walls, floors, stairways, and roof details. All Plans include a minimum of one detailed cross section. Some plans may include additional cross-sections may show important changes in floor, ceiling, or roof heights, or the relationship of one level to another. The sections show exactly how the various parts of the house fit together and are very valuable during construction.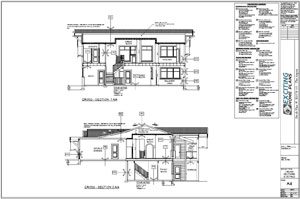 Standard Construction Details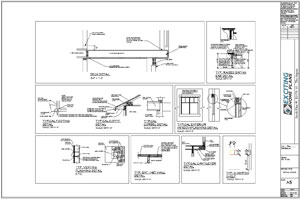 Exterior Elevations - In addition to the front exterior, your blueprint set will include drawings of the rear and sides of your house. These drawings give notes on exterior materials and finishes. Particular attention is given to cornice detail, brick and stone accents, or other finish items that make your home unique.
Electrical Plan - Electrical plans offers suggested locations with notes for all lighting, outlets, switches, and circuits. A layout is provided for each level, as well as basements, garages, or other structures. This plan does not contain diagrams detailing how all wiring should be run, or how circuits should be engineered. These details should be designed by an electrician.
What is NOT included in your plans
Architectural and engineering seals. Some cities and states now require that a licensed architect or engineer review and "seal" a blueprint, or officially approve it, prior to construction. Prior to application for a building permit or the start of actual construction, we strongly advise that you consult your local building official who can tell you if such a review is required.
A Site plan showing the location and fit of your plan on your project Plot. Should you have an AutoCAD drawing for your surveyor of your property showing Lot lines, Lot setbacks & all relevant easements, right of ways & site limitations Exciting Home Plans can provide you with a site plan for your project based on an hourly rate estimate for the work.
Exchanging a Plan

If for any reason the plan you ordered cannot be used with your current lot, we will be pleased to exchange it for another plan within 30 days of the purchase date. Shipping and handling will be extra. For more information call us toll free at 1-888-543-6668 or Contact us

Refunds
We will refund the plan cost for any stock plan within 2 days of the purchase for any reason. After 2 days the product is not refundable. See our exchange policy above.
Exchanges and refunds are not available if a plan has been modified.
We have been in the business of Designing homes for over 25 years and Please call us Toll Free 1.888.732.7895 to talk to one of our experienced and accomplished designers or contact us using our contact form.